Aisling McCarthy – TG4 Intermediate Players' Player of the Year
26 Nov 2017

Aisling McCarthy – TG4 Intermediate Players' Player of the Year
2017 will go down as one of the greatest years in the history of Tipperary ladies Gaelic football and tonight at the All-Star ceremony things just got even better for Cahir's Aisling McCarthy.
We extend our congratulations to Aisling who was awarded the TG4 Intermediate Players' Player of the Year award at the LGFA All-Star awards ceremony in Dublin. Having gone unbeaten all year in both the league and championship with Tipperary, Aisling's season got even better when she helped Cahir capture the Tipperary senior football title and tonight her inter-county peers have recognised her brilliance by awarding her this prestigious title. Amazingly she beat her club mate, Aishling Moloney, to the award. It is a testament to the great work being done in Cahir that two members of the club were nominated.
Aishling Moloney was also nominated for an All Star at left-half forward but unfortunately lost out to Dublin's Nicole Owens.
The all stars winners will be heading for a well deserved holiday to Bangkok, Thailand in March and we hope they have a marvellous time.
In other news, in what has been a phenomenal year for the Tipperary LGFA intermediate panel, they have now been shortlisted as one of the nominees for the 2017 Canon Hayes County Award which will be presented at the Great National Ballykisteen Hotel on Friday December 8th. With the year they have had who would bet against them claiming this prestigious accolade?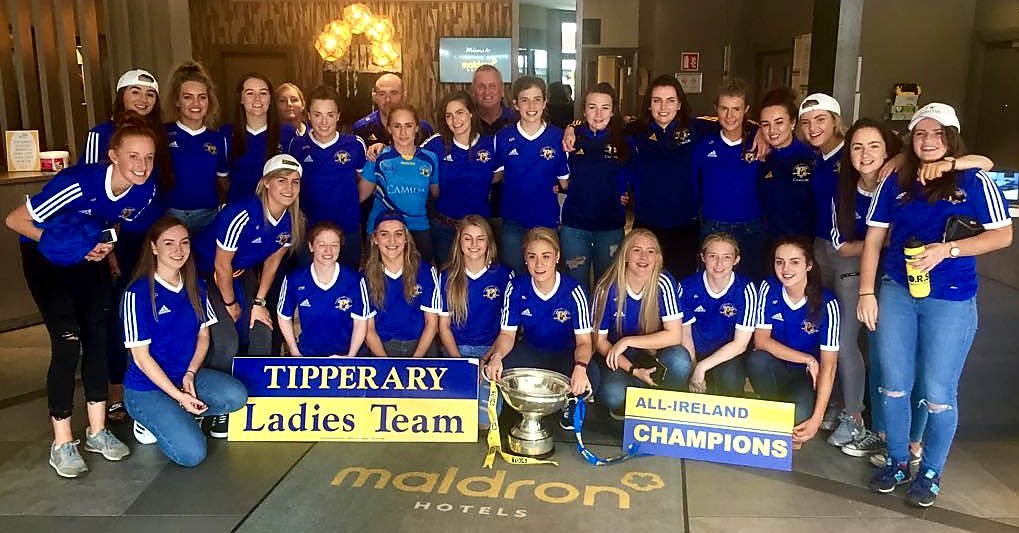 The 2017 @SportTG4 Intermediate Players' Player of the Year is Aisling McCarthy (@aish_mac) from @TippLadiesFB. Congratulations Aisling! #TG4AllStars pic.twitter.com/S4CqjgDsZl

— Ladies Football (@LadiesFootball) November 25, 2017
Aishling Moloney @TippLadiesFB Imreoir idirmheánach na bliana #TG4AllStars pic.twitter.com/mAF87hpN23

— Spórt TG4 (@SportTG4) November 25, 2017
Aisling McCarthy
TG4 Intermediate players player of the year for 2017, well done Aisling from all in Cahir gaa, you must be very proud ,enjoy the rest of your night 🥂🥂 pic.twitter.com/n54vQegvkD

— cahir gaa (@cahirgaaclub) November 25, 2017
Congratulations to the Tipperary Ladies Intermediate Football Team, who are one of the shortlisted nominees for the 2017 Canon Hayes County Award, which will be presented at the Canon Hayes National Sports Awards at the Great National Ballykisteen Hotel, on Friday December 8th. pic.twitter.com/FGv092qzto

— Martin Quinn (@martinquinns) November 22, 2017