Latest News
posted by Friends of Tipperary FootballFriends of Tipperary Football on Sun Nov 07, 2021
Moyle Rovers supporters shuffled away from the field in Golden yesterday afternoon in almost total silence. They were heart broken and mind broken. This was sport at its most cruel. Between now and Christmas in the pubs around Monroe, the last 20 minutes of this amazing game will be an analyzed whenever Moyle Rovers people meet.  Some will blame the referee, the non-experts will blame management like they always do, some will blame missed chances and some will blame the row.
But the bottom line is, Loughmore-Castleiney won this game because of work-rate and decision making. The turnover stats are often a reflection of work-rate and gives you a good indication of who will win a game. In fact the team that wins the turnover count wins the game 82% of the time. Loughmore-Castleiney turned Moyle Rovers over 21 times while Moyle Rovers only turned Loughmore-Castleiney over 15 times. Rovers relied on tactical fouling to try halt the Loughmore-Castleiney attacks and while it's not a tactic I would be totally against, it can't be your only tactic. Sometimes you have to roll your sleeves up and get the tackles in.
With Brain McGrath in the repair shop and Loughmore-Castleiney playing for the 16th weekend in succession, many had wondered if this would be a step too far for the Mid Tipperary men. They looked heavy legged in the opening scenes as Moyle Rovers dominated possession and points from Shane Foley and Stephen Quirke had them two up inside the first 3 minutes. The drizzling rain seemed irrelevant as Rovers moved the ball around confidently but some poor shot selection meant that after 10 minutes and approximately 80% possession, there was still only two points in it.
A Conor Ryan free in the 11th minute was immediately followed by a Liam McGrath point and in the blink of an eye Loughmore-Castleiney were level.  One wondered how this had happened. Compared to Moyle Rovers poetry, Loughmore-Castleiney's play had been in prose but I suppose when football is played in November prose has its own virtues.  A Rian Quigley point ensured Rovers went to the first water break winning 3 points to 2 and 5 wides to 1.
The second quarter of this game hovered between moderate and dull as both teams cancelled each other out. A Conor Ryan free and a trademark Liam Treacy beauty from out in the country had Loughmore-Casleiney briefly ahead before a Liam Boland free and a Rian Quigley mark saw Rovers head for the jaffa cakes leading 5 points to 4.
Despite the colourless texture of the 2nd quarter, you couldn't help but get the feeling that this game had not yet begun.
 A transformation took place during the half-time break. The rain stopped, the air softened, the wind which had being breathing into the Moyle Rovers backs dropped. And taking it's been hue from the weather, the two teams re-entered the arena with renewed purpose.
Four minutes later, John McGrath, who seems to have mastered the phenomenon of bi-location every bit as good as Padre Pio, had the sides level.
Moyle Rovers win the resultant kick-out and 6 seconds later Stephen Quirke claims an advanced mark and slots over.
Over the next t 10 minutes both sides  mix moments of genius with moments of madness. Moyle Rovers probably had the edge in this period but squandered a couple of chances before Peter Acheson puts them 2 clear heading into the second water break.
Substitute Evan Sweeney gets it back to a one point game with 10 minutes of normal time to go. Once again Moyle Rovers win the resultant kick out and 25 seconds later, Rian Quigley is galloping like inflation at the Loughmore-Castleiney defence. The ball is transferred to Stephen Quirke and he rattles the front of the net for what many thought was the turning goal in the game.
But this is Halloween season and this is Loughmore-Castleiney. If I didn't know them better I would have suspected black magic was at play. A silly incident on the side-line seemed to be the spark that lit the fuse and from here to the finish Loughmore-Castleiney met fire with fire and brimstone with brimstone.
A Conor Ryan free reduced the lead to 3 points and when the same player dropped his next free short, John McGrath reacted first to blast to the net and unbelievably the sides were level. Our Lord didn't rise from the dead until the 3rd day. It had taken Loughmore-Castleiney just 4 minutes.
Both sides are now going at it like two heavyweights slugging it out in the 10th round and the supporters of both parishes are loving it. Peter Acheson, Diarmuid Foley and Luke Boland squandered great chances that you suspect they would have popped over if this was the first round of the championship. John McGrath, Noel McGrath and Conor Ryan return the compliment by missing 3 good chances of their own.
Loughmore-Castleiney don't want extra time. It appears that referree Seanie Peters doesn't want it either. On the field it's end to end stuff. Off the field the excitement is more that a human heart should have to take.
Finally with the clock on the scoreboard heading towards the 37th minute, Lorcan Egan pirouetted his way through a couple of Moyle Rovers tackles and fisted over the bar from a tight angle.
There is no time for Moyle Rovers to recover. From the kick-out, referree Seanie Peters signals full stop. Loughmore-Castleiney win 1-08 to 1-07. 
And so the battleship Loughmore-Castleiney sails on with it's first port of call the County Senior Hurling Final next Sunday before dropping anchor the County Football Final in two weeks time!
As we say in Tipperary "that's fair going"
posted by Friends of Tipperary FootballFriends of Tipperary Football on Tue Oct 12, 2021
The Michael Hogan Festival of Football kicks off next Saturday (16th) with the u11 tournament. 67 teams have entered which will see over 1,000 kids playing football on Saturday morning. See the table below for teams and groups (first named club in each group is the host venue)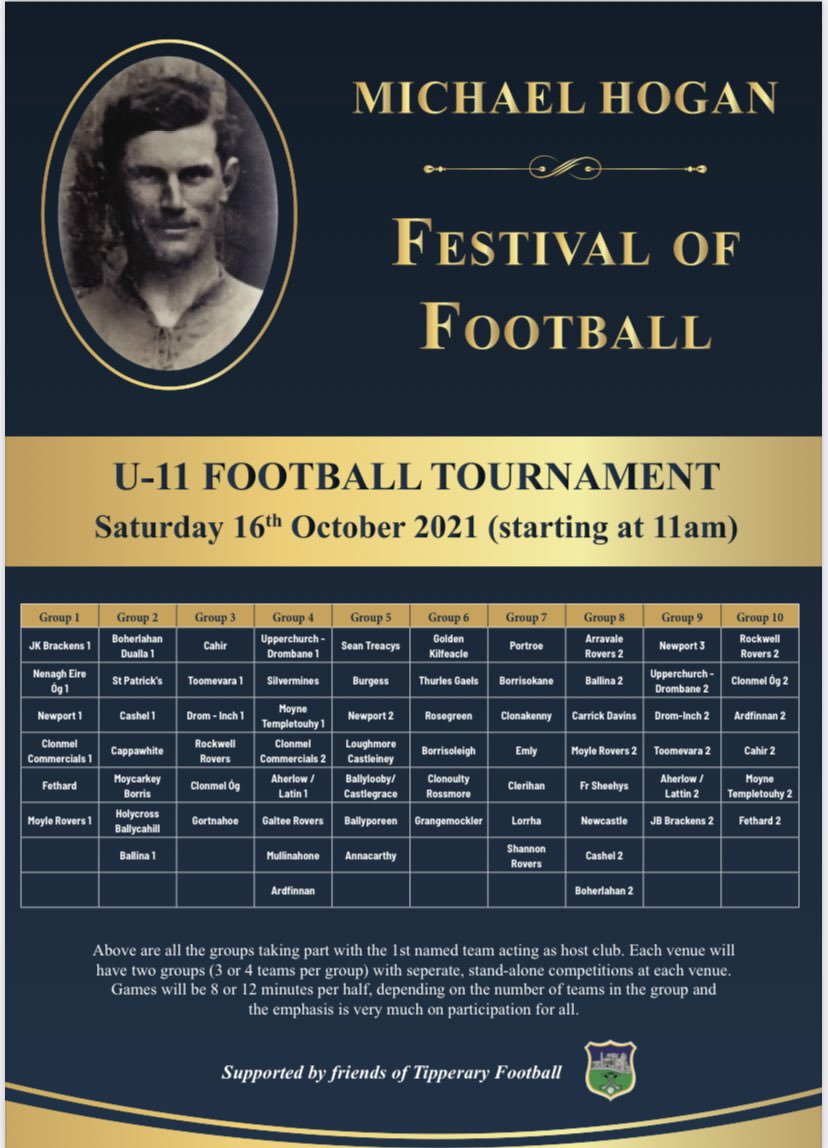 posted by Friends of Tipperary FootballFriends of Tipperary Football on Sat Sep 18, 2021
The Michael Hogan Football Festival sponsored by The Friends of Tipperary Football was launched last night at a reception in the Horse & Jockey. In excess of 90% of clubs have entered teams in both the U11 and U13 tournaments and with some clubs entering 2 and 3 teams we have close to 100 teams entered in both competiti0ns.
The Michael Hogan Festival of Football will be run as follows:
U11 competition 

on Saturday October 16

th

U13 competition 

on Saturday October 30

th

Format similar to Peil competition with each location hosting their own independent competition.
Each venue to host eight clubs with two groups of four
Teams will be graded.
When the host clubs are finalised, why not come along to the venue nearest you on either the 16th October, the 30th October or both, enjoy the atmosphere, meet some current Tipperary footballers but more importantly watch the stars of the future displaying their skills in what promises to be a wonderful celebration of football around the county
posted by Friends of Tipperary FootballFriends of Tipperary Football on Sat Jul 17, 2021
The winnings from our 2020 Euro Millions Lotto which ran from September 2020 to April 2021 amounted to €450.  In accordance with the terms and conditions of the syndicate, as everybody's winnings were less than €100 each, all members were entered in a number of €100 draws.  As a token of our appreciation to everyone who joined the syndicate, The Friends of Tipperary Football added €1550 to the winnings bringing the total to €2000 and last night we held 20 draws for €100 each.
And the winners are…………
1: Donnacha O'Meara (Lorrha)
2: Louise Coen (Donabate)
3: Niall Stack (Tullamore)
4: Drom & Inch Gaa Club
5: Anthony Fitzgerald (Clonmel)
6: Pat Slattery (Tipperary)
7: Eileen Seymour (Killadangan)
8: Jerry Ryan (Upperchurch/Drombane)
9: Ger English (Moyle Rovers)
10: Michael Clohessy (Moycarkey/Borris)
11: Lynsey Ryan (Clonakenny)
12: Donald O'Loughlin (Newcastle)
13: Paudie Costigan (Moyne/Templetouhy)
14: Paul Tobin (Tipperary)
15: Liam Coen (Nenagh Eire Og)
16: Joe McNamara (Clonmel Commercials)
17: Bernie Heffernan (Nenagh Eire Og)
18: Michael O'Sullivan (Ardfinnan)
19: Martin Dwyer (Moycarkey/Borris)
20: Seamus Hogan (Nenagh)
posted by Friends of Tipperary FootballFriends of Tipperary Football on Fri Jul 02, 2021
After 2 months of draws our Euro Millions Syndicate has won a total of €98 so far (€79 in May plus €19 in June).
We still have 10 months worth of draws to go to try win the jackpot so hope springs eternal!
posted by Friends of Tipperary FootballFriends of Tipperary Football on Wed Jun 30, 2021
The Tipperary Under 20 footballers will be the first of the teams into action, when they welcome Limerick to Semple Stadium on Thursday July 8th for a 7.30pm throw in. Ahead of the game, Tipperary Under 20 football manager Paddy Christie and his management team of David Power, Kevin Mulryan, Paddy O'Flaherty and Paddy O'Gorman have named the following panel:
| | |
| --- | --- |
| Barry Kehoe | Kilsheelan Kilcash |
| Billy O Connor | Kilsheelan Kilcash |
| Callan Scully | Nenagh Eire Og |
| Cathal Deeley | Clonmel Commercials |
| Conor McGrath | Loughmore-Castleiney |
| Eoin McCarthy | Clonmel Commercials |
| Jake Kiely | Cahir |
| Jamie Holloway | Carrick Swans |
| Jason Madigan | Kilsheelan Kilcash |
| Kieran Costello | Thurles Sarsfields |
| Rory Collins | Moyle Rovers |
| Sean Daly | Grangemockler Ballyneale |
| Tadhg Condon | Clonmel Commercials |
| Ryan Walsh | Fethard |
| Brian Keating | Portroe |
| Conor Cadell | JK Brackens |
| Ben Comerford | Grangemockler Ballyneale |
| Mark O Connor | Clonmel Commercials |
| Jamie Duncan | Knockavilla-Donaskeigh Kickhams |
| Leon Kennedy | Grangemockler Ballyneale |
| Matthew Power | Ballina |
| Emmet Butler | Kilsheelan Kilcash |
| Jack Lillis | Drom & Inch |
| Cian O Mahony | Ardfinnan |
| Mikey Lyons | Grangemockler Ballyneale |
| Christy English | Ballyporeen |
| Brian McKeown | Moyle Rovers |
| David Kelly | Arravale Rovers |
| Eanna Ryan | CJ Kickhams Mullinahone |
| Kevin Grogan | Cahir |
| Mark O Meara | Grangemockler Ballyneale |
| Sean O Connor | Clonmel Commercials |