Three is a Magic Number – Tipperary's Three Munster Titles in 1935
08 Aug 2017

Three is a Magic Number – Tipperary's Three Munster Titles in 1935
Schoolhouse Rock! was an American TV series of short animated musical educational programs that aired in the United States on Saturday mornings on ABC and ran from 1973 to 1985. It was revived in 1993 for another seven seasons. David McCall came up with the idea for the show when he noticed one of his children was having difficulties remembering multiplication tables but could remember lyrics to songs without any problems. He enlisted Bob Dorough who wrote all the "Multiplication Rock" songs including his most famous Three is a Magic Number. The lyrics include many reasons as to why three is a magic number and incorporated the three times tables aiding children in learning their maths. The song was also used by TV3 in the early days of the station as its signature tune. Had Dorough been a Tipperary GAA fan there's every reason to believe that he might have referred to the year 1935 when Tipperary captured three Munster football titles ensuring that three and 1935 became a magical number in the history of Tipperary football.
Our senior, junior and minor football teams, along with the minor hurlers, all delivered provincial titles but unfortunately none reached the summit of All-Ireland glory.
Minors
The minors began their campaign with a trip to Ennis and came away from Clare with a 0-8 to 0-4 win over the hosts before accounting for Cork in the Munster final in Fermoy 3-5 to 0-4. They defeated Ulster champions Donegal in the semi-final 3-3 to 2-3 before coming unstuck against Mayo in the All-Ireland decider 1-1 to 1-6 in what was revenge for the Westerners following Tipperary's win over them the previous year in the All-Ireland semi-final which turned out to be the de facto final as Dublin and Tyrone, who had come through the other side of the draw, were eliminated for fielding illegal players.
Munster Semi-Final (30 June 1935)
Tipperary 0-8
Clare 0-4
This game was the curtain raiser for the senior encounter between the same sides. Played in Ennis it was the home side who did the early running. Clare saw an early goal-bound shot saved but moments later pointed to open the scoring. Tipperary quickly equalized but Clare were again unfortunate not to goal when "McGrath had bad luck in striking the upright for what seemed a certain goal". The Tipperary goalkeeper came in for particular praise in the Cork Examiner with them reporting "the Tipperary custodian saved some difficult shots, and just before half-time intensive efforts by Clare failed, Tipperary's defense holding well".
In the second half Clare were again unlucky not to goal "when a low ball by Slattery, having passed the custodian, just cleared the upright on the wrong side, and again when Fitzpatrick, close up, struck the post when a point was certain". The Irish Press reported that the contest "produced some spectacular flashes of individual play, notably those provided by Ginger Slattery on the Clare side. The scorers for the winners were Power, Hickey, Greensmyth and Treacy. For Clare the scorers were Hennessey, McGrath, Slattery and Fitzpatrick".
Munster Final V Cork (21 July 1935)
Tipperary 3-5
Cork 0-4
Tipperary ran out comfortable winners in the Munster final against Cork which was played in Fermoy. The Irish Press reported that "Cork were first to score when the Tipp. goalie put over his own bar in endeavoring to save a close-in shot". According to the Nenagh Guardian "Cork took charge from the start" "and maintained a steady pressure on the Tipperary backs before relief was effected".    Greensmyth scored the Tipperary goal and at half-time Tipperary led by 1-2 to 0-2.
In the second-half Greensmyth goaled again only for it to be disallowed but shortly after Jimmy Hickey made amends with a goal of his own. Greensmyth was rewarded for all his efforts with a second goal of his own and Tipperary's third to seal victory 3-6 to 0-4.
Tipperary: E. Smyth, A. Quirke, T. Kenny, W. Hennessy, M. Gavin, M. Flynn, E. Mythen, C. Dillon, W. Treacy, J. Hickey, W. Donohue, H. Greensmyth, W. Power, O' Mara, Rafferty.
Cork: J. Kelleher, J. Lynch, F. Holly, J. O' Dwyer, C. O' Leary, D. O' Connor, P. Brosnan, V. Carr, J. O' Reilly, T. Ashe, A. Mulcahy, J. Ring, E. Casey, W. Lysaght, G. Lowery
Referee: Mr. D. Ryan (Tralee).
All-Ireland semi-final (19 August 1935)
Tipperary 3-3
Donegal 2-3
The Nenagh Guardian reported that our minors "were hard set" to beat Donegal after the Ulster side put "up a great fight for the laurels in the All-Ireland semi-final". "The Northern players were a nippy lot who fought every inch of the way, and with a little luck, might have signalised their first appearance at headquarters in this grade by carrying off the honours of the day".
However, it was Tipperary who carried the day and our "defense proved the stumbling block to the Donegal forwards". "Kenny, Hennessy, Gavin, Flynn were the outstanding players in this end, Greensmyth, Rafferty and Treacy also doing well".
"Hickey going right through for a goal", "Greensmyth goaling from a ruck" and "there was a good deal of loose play before Rafferty raced through for a goal that made the half-time score Tipperary 3-1, Donegal 1-3".
Donegal piled on huge pressure in the second half and reduced the margin to a solitary score before two late points from Hickey sealed the win and Tipperary marched on to the All-Ireland final on a full-time score of Tipperary 3-3 Donegal 2-3.
All-Ireland Final (22 September 1935)
Tipperary 1-1
Mayo 1-6
There was little between these sides in the opening half as a penalty goal for Mayo was cancelled out when Power fisted to the net after great combination play from Greensmyth and Rafferty. Mayo kicked two more points to leave it 1-2 to 1-0 in favour of the Westerners at the break.
Mayo started the second brightly and kicked an early point and piled huge pressure onto the Tipperary backs but they managed to prevent any three-pointers from being scored. Tipp were handed a lifeline with a penalty of their own which would have brought them right back into contention but unfortunately Hickey failed to convert the chance. With O Meara and Dillon playing well at mid-field there was always a chance and Hickey scored Tipperary's solitary point in the game midway through the second half but unfortunately it wasn't enough as the Connacht side ran out five point winners.
This was Tipperary's last All-Ireland minor football final appearance until 1955.
Tipperary: M. Gavin, E O' Meara, W. Treacy, H. Greensmyth, E. Smith, P. Quinn, M. Flynn, W. McCarthy, R. Dillon, J. Hickey, P. Rafferty, T. Kenny, W. Hennessy, W. O Donoghue, W. Power.
Referee: Mr. P.J. Masterson (Cavan).
Juniors
The juniors easily accounted for Clare in Carrick on Suir in the Munster semi-final 7-3 to 0-5 before facing Cork in Dungarvan in the Munster final. This turned out to be a very one-sided affair with Premier easily winning 4-10 to 0-3. Next up was the meeting with the Leinster champions Offaly which Tipperary emerging winners by four points, 5-2 to 2-7. In Birr, in the All-Ireland final Tipperary came unstuck against Sligo 2-5 to 4-2.
Munster Junior semi-final (7th July 1935)
Tipperary 7-3
Clare 0-5
This game was part of a double bill in Carrick on Suir as the senior hurlers took on Waterford in the Munster championship and had a facile 8-4 to 1-2 win. The junior footballers also won at their ease. There was a very brief report on this encounter in the Nenagh Guardian:
"In a junior football game between Tipperary and Clare, previous to the big game, Tipperary paved the way for a very strong double brought off by the county. Clare started well but they fell away hopelessly after a short time and Tipperary emerged victorious by the large margin of 7-3 to 0-5".
Munster final
Tipperary 4-10
Cork 0-3
This win ensured that Tipperary completed the Munster treble in Gaelic football in what was a momentous year for the big ball in the Premier.
William Hallinan opened the scoring early on with a point and from here Tipperary never looked back and Hallinan was again in the action as he got back on the goal line and saved a net bound shot which might have given Cork a much needed first-half boost.
A nice passing movement saw Jack Gunn get Tipperary's first goal of the game which was quickly followed with one of his own by Andy Greensmyth. With Tipperary playing "a more steady game" it was no surprise that they entered the half-time break leading 2-3 to 0-3.
Before Cork had a chance to stage a second-half come-back Jack Gunn and Mick Connors registered early points. Tipp grew in confidence and their kicking and fielding was superb throughout while their "forwards rarely lost a scoring chance". Gunn scored a third goal "that might have been averted" and Tipperary added a fourth just before full-time when Mick Connors finished a great move involving Gunn and Michael Byrne.
Tipperary: John Condon, William Hallinan, Christy Allen, George Grey, Donohue, Paddy Shelly, Savage, Tom Power, Ted Boyle, Andy Greensmyth, Michael Byrne, Larry Power, Phil O' Leary, Jack Gunn, Mick Connors.
Referee: Mr. P. Whelan (Dungarvan)
All-Ireland semi-final (8th September 1935)
Tipperary 5-2
Offaly 2-7
Offaly made three changes from the one that conquered Leinster for this game in Portarlington and according to the Nenagh Guardian it did little to improve their side as their "high but short kicking" failed to make any input upon Tipperary. Their "forwards gave a disappointing display and were completely off colour" while Tipperary "who were on the lighter side gave a good display".
"C. Allen was a great full-back with M. Savage and P. Donohue also good defenders, fielding well and kicking with length. P. Shelly and G. Gray were good about midfield and the forwards were well led by A. Greensmyth".
Christy Allen cleared a ball out from the Tipperary goalmouth which found Paddy Shelly who in turn fed Andy Greensmyth, who had earlier pointed, and he blasted home Tipperary's opening goal after thirteen minutes of play.
At half-time Tipperary led 1-1 to 0-3.
Offaly scored two early points through T Mullhall and T O' Connor to give them the lead but Jack Gunn goaled shortly after and Kissane quickly followed this up with another for Tipperary. Gunn and Kissane got two more Tipperary goals when Kildare's P. Watters blew for full-time the Premier were leading 5-2 to 1-7. Unfortunately, the match report in the Guardian does not say who got Tipperary's fifth goal.
All-Ireland final (29th September 1935)
Tipperary 2-5
Sligo 4-2
Sligo, confident after their win over Ulster champions Armagh, were Tipperary's opponents in the All-Ireland final in Birr and playing with the wind "in wretched conditions" they established a 4-2 to 1-2 half-time lead.
The Irish Press reported that Sligo played with "rare abandon and verve" and had scored three early goals "before the Munster champions had settled down" through M. Stenson, P. Brennan and F. Henry. At this stage things looked very bleak for Tipperary until a great break from "the dynamic force" Andy Greensmyth forced a foul which Brendan Kissane converted for Tipp's first score. Jack Gunn scored a second after good work from Kissane and Ted Boyle.
Suddenly Tipperary were right back in the match when Kissane picked out Phil O' Leary who played a great ball to Jack Gunn who blasted home a goal. Things were looking up at this stage for the Premier until disaster struck for a fourth time when an O' Donovan free somehow ended up in John Condon's net for a fourth Sligo goal.
Half-time:
Tipperary 1-2
Sligo 4-2
To their credit Tipperary did not give up despite the nine-point half-time disadvantage and fought bravely in the second-half to rescue the game. They were rewarded for their efforts with points from Gunn and Kissane (2) and Paddy Shelly set up Gunn for his second goal.
Tipperary piled on the pressure and "with only a goal separated them in the closing minutes, there were some exciting passages in which brilliant Tipperary forward work was foiled by a sterling Western defense" and unfortunately, they failed to get that elusive goal.
This was Sligo's first ever All-Ireland title and the supporters and players were naturally "elated at their success".
Tipperary: J. Condon, W. Hallinan, C. Allen, G. Gray, P. O' Donoghue, P. Shelly, M. Savage (captain), T. Power, T. Boyle, A. Greensmyth, M. Byrne, B. Kissane, P. O' Leary, J. Gunn, M. Connors.
Sligo: M. McGovern, J. Carty, M. Kennedy, P. Tiernan, O. Harte, M. Waters, J. Scanlon (captain), C. Curran, J. Quinn, M. Scanlon, P. Brennan, F. Henry, M. Stenson, J O' Donnell, S. Tansey.
Referee: S. Jordan T.D. (Galway).
Seniors
The seniors played three matches in 1935. Their first was the Munster semi-final against Clare in Ennis which Tipperary won 1-8 to 0-8. In the Munster final, they faced Cork in Fermoy comfortably winning 2-8 to 1-2 before Cavan ended their hopes of All-Ireland glory winning with a dramatic last minute goal in Croke Park 0-8 to 1-7.
Munster Semi-Final (30 June 1935)
Tipperary 1-8
Clare 0-8
Tipperary held out for a one-goal victory in the Munster semi-final against Clare in Ennis. The Irish Press reported that there was "great excitement amongst spectators" in the closing stages of the game as "one goal for Clare would make the contest a draw. Three times they brought the ball to within striking distance of Tipperary's net, but the visitors held their ground and ran out well deserved winners".
The game started brightly for the hosts as immediately after the throw-in P. O' Reilly pointed for Clare and they doubled their advantage as Michael O' Dowd collected the resultant kick-out and pointed. A Clare free and fisted Tom Stack point gave the Banner a 0-4 to 0-0 lead inside the opening five minutes and things looked ominous for Tipperary.
Tipperary settled after Clare's "lighting-like" start and Dick Allen settled proceedings with a well taken point before Dick Power of Clonmel Shamrocks added a second. Both teams traded points through Keane (Clare) and Kieran Holland (JK Brackens).
Tipperary took the lead just before half-time when Jim Noonan (St. Patrick's) won a Clare kick-out and fed possession, with a low ball, to Walter Scott (Mullinahone) "who banged into the net for Tipperary's first goal" to leave it 1-3 to 0-5 at the break.
Tipperary dominated the second half with points from Chris Allen (Fethard), Michael Condon (Ardfinnan) and Holland (2) while Comerford, White and Sweeney responded for Clare. But try as they might the Banner couldn't break down a resolute Tipp defense for the all-important goal and Tipperary marched on into the Munster final.
Munster Final (21 July 1935)
Tipperary 2-8
Cork 1-2
And so, it was onto Fermoy to face Cork in the Munster final which Tipperary won by nine-points due in no short measure to a great Premier defense and several fine saves from goal-keeper Jim Williams, described as a "stone wall" in the Cork Examiner. Both teams were led onto the field of play by the Thomas Kent Pipers Band and the national anthem was performed by the Confraternity Brass and Reed Band, Fermoy.
The venue was described as an "admirable enclosure" by the Cork Examiner with the journalist noting that the venue was the result of the "spirited enterprise of the townspeople" and not even the rain that fell before and during the match could take away from the facilities on offer but it did affect the play with "the ball consequently becoming greasy and difficult to control but some really good football was seen".
Cork did create a few chances but due to relentless pressure from the Tipperary rearguard they were unable to convert them into scores on the board. The Tipperary attack were very efficient scoring most of the opportunities that presented themselves. The Nenagh Guardian reported that "Cork showed better speed, were as well able to field the ball and gave a fine display of combination but were no match for their opponents in the matter of scoring ability" and "the contest furnished a splendid object lesson on advantages of finesse, in which Tipperary had the mastery".
Tipperary it seems, were happy to play their own brand of defensive football, happy to sit back in their own half and thwart the Cork attack "but when Tipperary did get over the midfield line, they were quicker to take advantage of their opportunities, and showed themselves to be more accurate and better finishers". Nenagh's Robert McGann came in for a lot of praise for breaking up numerous Cork attacks.
This was Tipperary's first Munster championship title since 1922 when they defeated Limerick 1-7 to 0-1. In the intervening period, they had reached seven deciders but were unlucky in defeat each time.
An interesting sub-plot to this Munster championship was the decision made by Kerry to withdraw from the championship, at all grades, in protest at the treatment of Republican prisoners in the Curragh, Kildare. Kerry demanded that the prisoners be released or at least have their conditions improved.
Tipperary: R. Power, T. Williams, M O' Keeffe, R. Lonergan, M. Morrissey, W. Purcell, E. Scott, W. Scott, P. Dennehy, J. McGann, P O' Brien, M. Weldon, R. Allen, J. Nunan, K. Holland.
Cork: M. Hennessey, G. Andrews, G. Kelleher, J. Burke, T. Harrington. J. Harrington, T. Cotter, J. Cummins, F. Healy, S. O' Sheahan, W. Lynch, M Duggan, P. Houlihan, D. O' Sullivan, J O' Regan.
All-Ireland Semi-Final (18 August 1935)
Tipperary 0-8
Cavan 1-7
Tipperary marched on to face Ulster champions Cavan in the All-Ireland semi-final and were rank outsiders going into the contest but the gods looked unfavourably upon them and a late controversial last ditch goal by Hugh O' Reilly stole the game from the Premier.
Tipperary entered injury time winning by a solitary point and the Tipperary fans were in "jubilant" form as Cavan pressed for a precious equalizer. In one final push for the levelling score the ball went wide but the umpire deemed that it last touched a Tipperary played and awarded a '45 much to the frustration and protests of the Tipperary backs. Jim Smith stepped up to try and level proceedings but his effort fell short and O' Reilly fisted the dropping ball past Jim Williams in the Tipperary goal. There was nothing the Clonmel Commercials' man could have done to prevent the winning score and moments after his kick-out referee P. McDonnell from Dublin blew the final whistle. The game was witnessed by 11,537 fans with gate receipts amounting to £720. The Cork Examiner reported that "it was a disaster none could have possibly anticipated and it pays a great tribute to Tipperary that it in no way affected their sporting spirit or their morale, for they launched a furious attack upon Cavan" and "their pluck was unquestioned". To add further woe to Tipperary, Cavan went on to claim the Sam McGuire defeating Kildare by four points.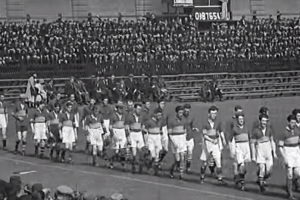 Tipperary did launch an objection to the result which was heard by the Central Council on September 1st but failed due to a lack of proof.
According to Seamus J. King in Tipperary's GAA Story 1935-1984 there were six points to the objection:
The referee could not disallow a point scored by Tipperary as the umpires agreed and raised the flag, the ball being high enough to be out of reach of the defense.
That the goal scored by Cavan should not have been allowed as the time was up, and the player (J. Smith), who took the fifty-yard kick from which the goal resulted, was so informed by the referee after the ball was placed.
That James Smith was illegal to play with Cavan as he became suspended through attendance at foreign games.
That Smith did not declare to play with Cavan as required by Rule 14, O.G.
That he was illegal to play with Cavan as he had played with Garda team in the 1935 championship and league in Dublin (in which county he resided) which is necessary according to Rule 14.
That Smith, being a suspended player, was not entitled to play with Cavan.
Later in the year Cavan visited Clonmel for a league match and were met by the Clonmel Pipers' Band, escorted to the Town Hall and welcomed by Mayor White and that the town was honoured to have them as their guests that night. The game itself also ended in dramatic fashion as Cavan scored a dramatic last minute penalty to once again break Premier hearts!
Enda O'Sullivan
Secretary, Tipperary Bloody Sunday Commemoration Committee