Who fears to speak of '98? The story of the Tipperary junior football team, Munster and All-Ireland champions 1998
26 Apr 2018

Who fears to speak of '98?
The story of the Tipperary junior football team, Munster and All-Ireland champions 1998
In 1912 Tipperary were the inaugural winners of the very first All-Ireland junior football crown when they defeated Waterford (0-5 to 0-2) in the Munster final and later Louth in the All-Ireland final (1-4 to 1-3) played in Croke Park. They would win it again in 1923 with Ned Cummins as captain as they overcame Carlow (2-5 to 1-3) also in Croke Park while in 1998 Kevin Coonan would become the very first North Tipperary man to lead a Premier team to All-Ireland football glory when they defeated Offaly in the junior final in Portlaoise. All-Ireland football titles are rare in Tipperary and in 1995 Philly Ryan captained the team that captured the All-Ireland senior 'B' title but one would have to travel right back to 1934 for our last title when Andy Greensmith led the minors to glory. This celebrated success in 1998 gave the county a much needed boost and a cause for optimism heading into the future. This is the story of 1998.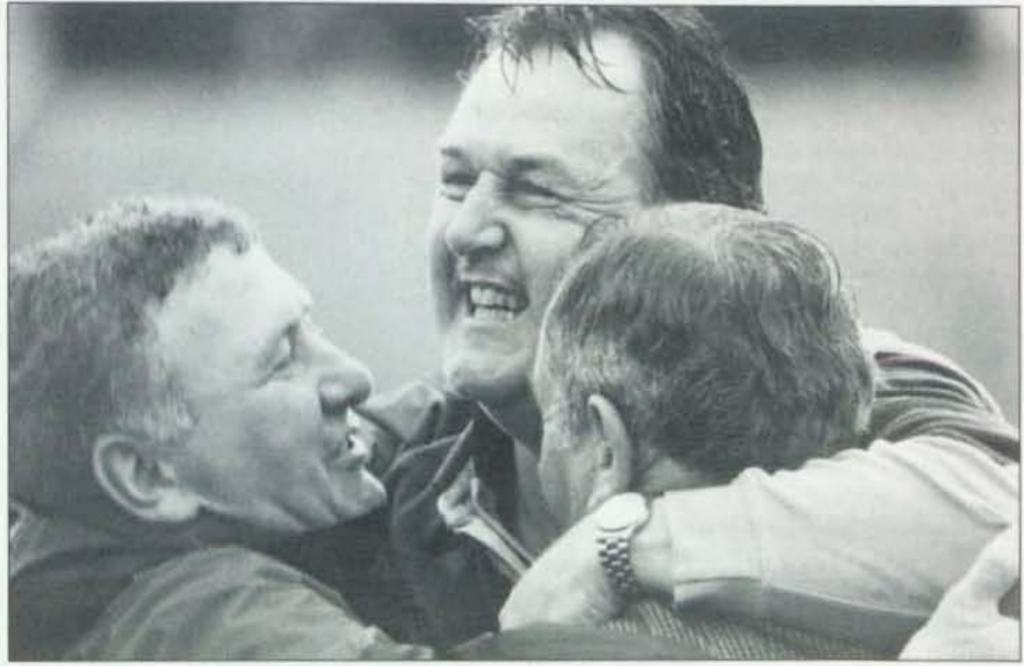 Management
At the beginning of 1998 it was decided that there should be a connection between the under-21 and junior team and so Seamus McCarthy was appointed manager of both sides. He was ably assisted by Pete Savage, Martin Healy and Conor O' Dwyer. As a result of this decision there were eight under-21s on the junior panel. Training commenced in Spring with sessions in New Inn, Cahir, Ardfinnan, Golden, Marlfield and Dr. Morris Park with challenge games played against Wexford and Kilkenny.
The players immediately bought into the training and ethos of the team and travelled long distances to train often at great personal expense; Jim McAuliffe remembers that "one night PJ Lanigan  and I were travelling back separately from Thurles and we both got a speeding ticket coming into Monsterevin!" Commenting about McCarthy, McAuliffe mentioned that "Seamus was shrewd enough to pick the panel and to add to it after the Munster final. Martin, Conor and Pete were good selectors to Seamus, and as a management team they stuck by decisions. I can't remember the speech Seamus gave before all Ireland final in detail but it struck a chord and you could feel it as the team went out onto the field. There were no trials, whilst Seamus McCarthy was living in Kinsale he had his pulse on Tipperary club football. In short, he picked guys that could play football and mixed the panel with youth and experience. I would say whilst we were all competitive guys, there were no egos. The team had serious footballers and great characters".
Chris Bonar also has high praise for Seamus McCarthy: "Right from the first training you could see the management were determined to do things right. The whole set up was very professional. Training was very hard but interesting. I remember Seamus McCarthy's pre match talks really instilling confidence and belief.  He really exuded confidence and gave us the same. I would describe him as a players man. He understood how to get the best out of players. I think the fact that because he had been senior manager previously, he immediately garnered everybody's respect."
Selector Pete Savage also holds McCarthy in huge regard: "A man that did an awful amount of work for football in the county. He was the driving force behind it all. He deserves a lot of credit for this and he gave great service to Tipperary down through the years. We were outsiders in most matches but Seamus gave us the confidence to win those and we played very well against Offaly in the final. He put a lot of work into it and when he moved to Kinsale he was a fierce loss to us, to Tipperary football."
First Round
Tipperary 1-14 Limerick 0-3
Gaelic Grounds
10 May 1998
The Nenagh Guardian led with the headline "Cake Walk for Tipp" in what was a facile victory for the Premier in the opening round of the Munster junior football championship. The rules had changed in relation to eligibility for this grade and the management could now call on several players with vast senior experience at club and inter-county level and this proved to be hugely beneficial against Limerick.
Indeed with clubs like Moyle Rovers and Fethard contesting Munster senior club finals in recent years Tipperary had a vast array of seasoned talent on display with the result that the Premier won this encounter in a canter.
In fact the Limerick Leader were rather unforgiving towards their own team describing it as a "dreary hour's football" for Limerick "whose over-all display bordered on the pathetic". So bad was it that they reported that the "final whistle must have been sweet music in" the ears of the few hundred supporters that showed up as "commitment and effort were visibly absent" among the players.
Tipperary started in ruthless fashion and had notched up seven points in the opening twenty minutes before the Shannonsiders troubled the score board operator with a Declan White effort. By half-time the margin had opened out to seven with Tipp leading 0-9 to 0-2.
Whatever hopes Limerick had of a second half revival were dashed within three minutes of the resumption as Jim McAuliffe found the net for the game's only goal.
By the time referee Peter Lyons (Kerry) blew for full-time Tipperary led 1-14 to 0-3
Scorers for Tipperary: K. Coonan 0-6, J. McAuliffe 1-1, T. Sheehan 0-2, M. O' Shea 0-2, D. Peters 0-1, W. Morrissey 0-1, C. Bonar 0-1
Scorers for Limerick: D. White 0-2, J. Mullins 0-1
Tipperary: Seamus Delahunty, Ky Vaughan, Albert Keating, Michael O' Mahoney, Benny Walsh, Derry Peters, Willie Morrissey, Damien Byrne, Tommy Sheehan, Paul Cahill, Mark O' Shea, PJ Lanigan, Jim McAuliffe, Kevin Coonan, David Burke. Substitutions: Chris Bonar for Burke
Limerick: W. Fitzgerald, K. Moloney, A. Frawley, J. Lynch, S. O' Brien, T. Collins, D. Guiney, D. Coughlan, T. McLoughlin, S. Kelly, D. White, N. McNamara, J. Mullins, J. Power, M. Sheehan. Substitutions: S. McNeill for Guiney, S. Kelly for Mullins
Referee: Peter Lyons (Kerry)
Second Round
Tipperary 0-9 Waterford 1-5
Clonmel
30 May 1998
Next up was the visit of Waterford to Clonmel for the Munster quarter-final and this proved to be a much tighter affair as the Déise pushed Tipperary all the way and it took a late point from the boot of Mark O' Shea to send Tipperary into the Munster semi-final by the narrowest of margins.
Despite the confident performance in the previous round Tipperary never really got motoring and were fortunate that Waterford missed numerous opportunities that came back to haunt them at the finish.
Tipperary played with the breeze in the opening period and enjoyed the lion's share of possession but failed to make it truly count on the scoreboard. Approaching the half-time whistle they led 0-5 to 0-1 but should have been much further ahead when Waterford's Ger Walsh blasted home the game's only goal to reduce the margin to one. Tipperary showed a great resilience to the goal however when PJ Lanigan quickly pointed to open the gap to two at the break.
Incidentally, this proved to be the only goal that Tipperary would concede for the entire championship. A remarkable statistic that showed the brilliance of both goalkeeper Seamus Delahunty and our defence. Jim McAuliffe pointed out that "When people ask me about 1998 I ask the question 'we played six games to win it, how much did our backs concede in those six games?' No one has ever got it right, but how could they? 1-30 conceded is some achievement. Fair to say us forwards had an armchair ride to an All-Ireland."  This team played five championship matches and scored an amazing 7-68 and this left them with a positive scoring difference of 56 points.
With ten minutes remaining on the watch of referee Richard Murphy, Tipperary led 0-8 to 1-2 and looked to be in control but then Waterford exploded into life knocking over three unanswered points to draw level but the drama wasn't over yet. Substitute Anthony Crosse found Mark O' Shea who kicked over the winning score.
According to Gerry Slevin in the Guardian it was the introduction of the Éire Óg Annacarty man that swung the pendulum in Tipperary's favour; "along with sending over a good point, his positional sense and experience were valuable assets. Willie Morrissey and Ben Walsh with Paul Ormond were sound in defence and David Fogarty worked hard in midfield." "Mark O' Shea and Paul Cahill were the best of the forwards".
The bond between the panel was beginning to blossom and Nenagh's Chris Bonar recalls that "when we played Waterford in Clonmel, it was a Saturday evening. Jim (McAuliffe), George (Kevin Coonan) and I travelled from Nenagh together. It took us two hours to get there. We didn't get home until Monday. Two hours to get there but two days to get back. We blame PJ Lanigan for that!".
This game proved to be an important one for the development of this team and belief began to grow that they could win a Munster championship.
Scorers for Tipperary: P. Cahill (0-2), K. Coonan (0-2), W. Morrissey (0-1), J. McAuliffe (0-1), PJ Lannigan (0-1), A Crosse (0-1), M. O' Shea (0-1).
Scorers for Waterford: G. Walsh (1-0), P. Fitzgerald (0-2), T. Corcoran (0-1), B. Arrigan (0-1), J. Power (0-1).
Tipperary: Seamus Delahunty, Paul Ormond, Albert Keating, Michael O' Mahoney, Ben Walsh, Derry Peters, Willie Morrissey, Damien Byrne, David Fogarty, Paul Cahill, Mark O' Shea, PJ Lanigan, Jim McAuliffe, Kevin Coonan, David Burke Substitutions: Anthony Crosse for Bourke, Chris Bonar for McAuliffe.
Waterford: Alfie Kirwan, Brian Whelan, Alan Power, Dan Crotty, David Ryan, Pat Walsh, Alan Reynolds, Aidan Aherne, Eddie Burke, Tony Corcoran, Ger Walsh, Fran Halpin, Niall O' Connor, Ger Power, Paul Fitzgerald. Substitutions: Brian Arrigan for O' Connor, John Power for Halpin.
Referee: Richard Murphy (Cork).
Munster Semi-Final
Tipperary 0-8 Clare 0-6
Gaelic Grounds, Limerick
 28 June 1998
And so it was onto the Munster semi-final in the Gaelic Grounds, Limerick where Clare stood in opposition and Tipperary came away with a two-point advantage after referee Aidan Mangan (Kerry) blew for full-time.
Entering the game many had predicted a Banner victory considering the number of former seniors Clare were fielding including the star of their 1992 Munster final win over Kerry, Conor Clancy, however it was Seamus McCarthy's men that came out on top.
In a game that both sides dominated at different periods, it was Clare who set the early running notching up two points inside the opening ten minutes but their failure to score again for the remainder of the half ensured that Tipperary went into the break in front after captain Kevin Coonan (3) and Jim McAuliffe (1) responded with four Premier points.
The second half looked as if it was going to be one way traffic when Mark O' Shea kicked a pointed free to extend Tipperary's lead but by the twelfth minute Clare had drawn level and shortly after went ahead. While Clare continued to dominate possession they failed to express this on the scoreboard and amazingly did not score again.
Kevin Coonan kicked two pointed frees and another followed from the boot of Mark O' Shea to settled the final score.
For Tipperary Kevin Coonan and Mark O' Shea stood out in the forwards while Paul Ormond, Ben Walsh and Albert Keating all had fine games. Both Tommy Sheehan and Anthony Crosse made late substitute appearances to help Tipperary over the finish line.
Now having beaten Limerick and Clare, two counties that were making serious strides at senior level in the 1990's the players began to feel that they could overturn Cork in the Munster final.
Scorers for Tipperary: K. Coonan 0-5 (3 frees), M. O' Shea ( 2 frees), J. McAuliffe 0-1.
Scorers for Clare: M. Shanahan 0-2 (1 '45), P. McMahon 0-2, B. Power 0-1, C. Clancy 0-1.
Tipperary: Seamus Delahunty, Ben Walsh, Albert Keating, Michael O' Mahoney, Damien Byrne, Derry Peters, Willie Morrissey, Paul Ormond, Mark Leonard, Paul Cahill, Mark O' Shea, P.J. Lanigan, Jim McAuliffe, Kevin Coonan (captain), David Bourke.
 Substitutions: Tommy Sheahan for Bourke, Anthony Crosse for McAuliffe.
Clare: Carl Walsh, Tomas Kerin, Michael Galvin, Cathal Nagle, Dermot Coughlan, Noel Griffin, Pat Foley, Neil Hawes, Tony Keavey, Brian Power, Colm Clancy (captain), Kieran Considine, Peadar McMahon, Declan Power, Mark Shanahan.
Substitutions: Martin O' Connor for Considine, Michael Neylon for Galvin, Brian Cunningham for Shanahan.
Referee: Aidan Mangan (Kerry)
Munster Final
Tipperary 0-6 Cork 0-5
Páirc Uí Rinn, Cork
Wednesday 15 July 1998
"Tipperary's junior footballers produced a tremendous display of skill and commitment to beat Cork in the Munster final" according to The Guardian's Gerry Slevin. The historic win was Tipperary's sixth in total and their first in 46 years. The minor footballers had captured the Munster title three years previously while the seniors had also won the All-Ireland B title that same year so there was optimism that Tipperary could pull off a win in this game.
The game itself was far from a classic with both defences well on top. In fact, at the interval the score was deadlocked at 0-1 apiece. It wasn't until the 21st minute that spectators witnessed the first score, a point by Cork's Jonathon McCarthy. Tipperary were unfortunate not to score two goals during this half as Lattin Cullen's Brian Maguire blasted wide in the 16th minute when he had only the Cork netminder to beat. In the 23rd minute Mark O' Shea went closer but his effort was brilliantly tipped out for a '45 by Cork goalkeeper Eddie Carey. Up stepped Kevin Coonan to point the resultant '45 for Tipperary's opening score.
The game did improve as a contest in the second period with Tipperary adopting a more attacking approach which proved more effective to Cork's passing game which often led them down dead ends.
With fifteen minutes remaining Tommy Sheehan pointed Tipperary in front for the very first time, a lead they would hold onto until the final whistle.
Tipperary's best performers came from Tommy Sheehan, Kevin Coonan and Jim McAuliffe in attack while at the other end Willie Morrissey, Fergal Clifford, Damien Byrne and Paul Ormond excelled.
The celebrations at full-time were understandably hectic. Chris Bonar described it as "an unbelievable feeling, made even more special by Kevin "George" Coonan being captain. And Jim McAuliffe coming on as a sub made it even better.  I was over the moon all the same. And an Éire Óg man captaining a Tipperary football team to a Munster title was unheard of! We were just so happy to win a Munster title. It would have been a big shock at the time all the same. But we didn't think it was that big a shock because we had a very strong panel. We had a lot of fellas who had played senior football with Tipperary, mixed in with very good younger ones who would go on to represent Tipp at senior level."
Scorers for Tipperary: Kevin Coonan (0-2, 1 '45), Tom Sheehan (0-2), Mark O'Shea (0-1), Jim McAuliffe (0-1).
Scorers for Cork: Jonathan McCarthy (0-5, 4 frees).
TIPPERARY: Seamus Delahunty (Moyle Rovers), Fergal Clifford, Albert Keating (Ardfinnan), Michael O'Mahoney (Commercials), Damien Byrne (Fethard), Derry Peters' (Aherlow), Willie Morrissey (Fethard), Paul Ormond (Loughmore-Castleiney), Mark Leonard (Aherlow), Paul Cahill (Mullinahone), Brian Maguire (Lattin Cullen), P.J. Lanigan (Grangemockler), Kevin Coonan, Capt. (Nenagh Eire Og), Mark O'Shea (Aherlow), Tom Sheehan (Fethard).
Substitutions: David Burke (J.K. Bracken's) for Keating, Jim McAuliffe (Dunlavin) for Burke, Anthony Crosse (Eire Og, Annacarthy) for Maguire.
CORK: E. Carey, M. Angland, D. O'Callaghan, P. Nolan, K. Daly, D. Creedon, S. Coughlan, M. Monaghan, J. O'Connell, A. O'Shea, M. O'Sullivan, S. Downey, J. McCarthy, B.G. O'Sullivan, N. Twomey.
Substitutions: E. Coveney for Twomey, N. Crowley for O'Sullivan.
Referee: M. O'Suilleabhain (Kerry).
All-Ireland Semi-Final
Tipperary 4-22 Warwickshire 0-4
Ardfinnan 15 August 1998
In preparation for this tie, the team played Cahir in a challenge match at Ardfinnan while also having seven training sessions. Having led 1-7 to 0-1 at the break this turned into a rather easy affair with the home side running out comfortable 30 point winners. Described as a "disappointingly one-sided semi-final" by the Irish Independent the exiles never threatened the home side. The Cork Examiner were similar in their views as Tipperary "romped" to final "in a disappointingly, lop-sided semi-final that saw the visitors lose their way early on and launch a serious challenge to the Munster champions". Gerry Slevin was more expressive in his assessment when he commented that "luckless Warwickshire were not capable of preventing such a massacre, rather it was Tipp's own restraint in a decidedly one-sided encounter in sunny Ardfinnan that kept the margin down to a mere thirty points".
To be fair to the visitors they were hampered before they even reached their destination. They flew into Dublin from Birmingham and travelled by coach to Ardfinnan but were regularly caught in heavy traffic on the way down only arriving at the pitch just in time.
Mark O' Shea and Kevin Coonan scored early points for Tipperary "before corner-forward Jim McAuliffe floored Warwickshire with a cracking goal after 12 minutes". Anthony Crosse showed no sympathy for the visitors as he crashed home two goals in the 36th and 42nd minutes which extinguished any faint hopes Warwickshire might still have harboured and when Brian Maguire scored the fourth in the 48th minute the scoreboard read 4-12 to 0-3. The heart were completely torn out of the opposition by now and the Tipp forwards rattled off ten more points in the closing stages.
"Tipperary's clear cut win was fashioned by fine performances from Damien Byrne, PJ Lanigan, Willie Morrissey, Mark Leonard, Mark O' Shea, Tommy Sheehan, team captain Kevin Coonan and substitute Damien O' Brien" – Cork Examiner.
Scorers for Tipperary: M. O' Shea 0-6, A. Crosse 2-0, T. Sheehan 0-5, J. McAuliffe 1-1, B. Maguire 1-1, K. Coonan 0-4, D. O' Brien 0-3, D. Byrne 0-2
Scorers for Warwickshire: S. Dundas 0-2, E. Molloy 0-1, K. Sweeney 0-1
Tipperary: S. Delahunty, D. Byrne, F. Clifford, K. Vaughan, P.J. Lanigan, D. Peters, W. Morrissey, P. Ormonde, M. Leonard, B. Maguire, M. O' Shea, T. Sheehan, K. Coonan, A. Crosse, J. McAuliffe.
Substitutions: K. Ryan for Ormonde, D. O' Brien for Crosse, D. Burke for Leonard
Warwickshire: M. Smith, D. Holland, K. Lennon, K. Wynne, M. McGowan, S. McMullen, P. Heuston, E. Molloy, P. Thompson, B. Connolly, J. Dowling, K. Boyle, C. Folan, S. Dundas, K. Sweeney.
Substitutions: J. Cooke for Boyle, P. Sweeney for Thompson
Referee: E Whelan (Laois)
All Ireland Final
Tipperary 2-9 Offaly 0-6
Portlaoise 28 August 1998
The Irish Independent ran with the headline "Tipperary's scoring blitz stuns Offaly" as a string of scores before the half-time break put the Premier in dominant control in Páirc Uí Mhórda, Portlaoise.
Offaly were in a comfortable position leading 0-3 to 0-2 but Paul Cahill, Tommy Sheehan and Mark Leonard rattled off three points in as many minutes before Tommy Sheehan scored a great goal, beating Ken Furlong, the son of legendary Offaly goalkeeper Martin, after being set up by Anthony Crosse, to put Tipperary into a commanding 1-5 to 0-3 half-time lead. Offaly were shell-shocked after enjoying the lion's share of possession and never regained their composure in the second half.
Described as "a game that produced some excellent passages of football" in the Cork Examiner "Tipperary thrilled their followers" with a wonderful and entertaining performance. Following a fantasic Seamus Delahunty save, manager Seamus McCarthy needed to react and he made a brilliant tactical switch moving Anthony Crosse from full-forward into the centre half-forward position and "suddenly Tipperary sprung to life" scoring 1-3 without reply.
In the second half Paul Ormond and Mark Leonard dominated the middle of the field and ensured a plentiful supply of ball into the forwards. Minor Damien O' Brien was introduced to the fray and he caused numerous problems for the Offaly backs. He was rewarded for his endeavour when he finished a great move set up by Mark O' Shea and Anthony Crosse to score Tipperary's second goal of the night.
"Tipperary had outstanding players in Seamus Delahunty, Fergal Clifford, Michael O' Mahoney and Derry Peters in defence. Paul Ormond and Mark Leonard were in complete control for the whole match at midfield and in attack Thomas Sheehan, Paul Cahill, Anthony Crosse and substitute Damien O' Brien were always very prominent". – Cork Examiner.
Afterwards Jim Berry, Chairman of the Leinster Council presented the trophy to Kevin Coonan.
Scorers for Tipperary: T. Sheehan 1-2, P. Cahill 0-3, K. Coonan 0-3, D. O' Brien 1-0, M. Leonard 0-1.
Scorers for Offaly:  D. Connolly 0-4, J. Kennedy 0-1, Darren Quinn 0-1.
Tipperary: S Delahunty, D Byrne, F Clifford, M O' Mahoney, PJ Lanigan, D Peters, W Morrissey, P Ormond, M Leonard, P Cahill, M O' Shea, B Maguire, K Coonan, A Crosse, T Sheehan.
Substitutions: J McAuliffe for Leonard, D O Brien for Maguire.
Offaly: K Furlong, J Hurst, A Murphy, B Wynne, M Kennedy, P Mulvihall, D Quinn, P Connolly, G Comerford, N Bryant, C Brazil, J Kennedy, M Keeneghan, D Connolly.
Substitutions: S Manley for Comerford, K Flattery for Brazil.
Referee: Des Joyce (Galway)
"You'd think Sam had come to the Premier County!"
As mentioned earlier Ned Cummins captained the 1923 junior side to All Ireland success and "the icing on the cake was the presence of his brother Dick" who was there to witness this monumental occasion. Pent up emotions from years of hurt among the football fraternity were released at full time and again when Kevin Coonan received the trophy from Leinster Council chairperson Jim Berry from Wexford, deputising for President Joe McDonagh who was out of the country.
"Such was the reaction from the small but very  vocal and supportive Tipp following, that you'd think Sam (Maguire) indeed had found a new home in the Premier County" wrote the Guardian's Gerry Slevin. "As the final minutes neared, the trophy presentation area began to fill up with young, eager Tipp-clad supporters, in anticipation of Kevin Coonan's reception of the somewhat battered cup". This was "well deserved and was just reward for the perseverance of Tipperary's Mr Football, Seamus McCarthy, who over the years had made no secret of his desire to adequately prepare a Tipp team to win an All-Ireland title".
An hour after referee Des Joyce signalled the end of this contest supporters and players still mingled on the Portlaoise sod wishing for this moment to never end. One of Chris Bonar's abiding memory from the game "was standing on the pitch afterwards with our families. My own family, the Coonans and the McAuliffes along with all the other panel members' families. It was very special."
Most Rev. Dermot Clifford – Patron of the GAA
Writing in the 1999 Tipperary GAA Yearbook the Most Rev. Dermot Clifford wrote that "there were tears in the eyes of some of the older supporters and joy unbounded among the young. They lingered long on the pitch that evening as they savoured their sweetest victory. If only Bill Ryan of Laha had lived to see it! What was particularly pleasing about this team was that it came from all four divisions of the county. It was not the strong holds of south and west. The captain, Kevin George Coonan, is a Nenagh man. There is a Loughmore man with a lion's heart; there are four young hares from the Glen of Aherlow where they train at altitude and a veteran from Anacarty, Anthony Crosse, whom all Tipperary are delighted to see on the winners' podium. Then of course, there were the slouthearts from the south – without whom no Tipperary team would be complete."
The Captain – Kevin "George' Coonan
Kevin Coonan, affectionately known as "George", made history by becoming the first man from the North division to captain Tipperary to All-Ireland football success. With Nenagh Éire Óg winning the county intermediate championship in 1997 George was selected to captain the side in 1998 and what a captain he was. Chris Bonar describes him as "a seriously talented footballer. A bit of an enigma but no doubting his talent. A lot of inter county footballers, then and now, cannot kick frees over the bar from 40 – 50 yards out. He could. And Seamus McCarthy had him on the Tipperary senior panel years before, so he knew how to get the best out of him. And he did in fairness. But a very talented player. Did his talking on the pitch. A very big player for the team throughout the year."
Pete Savage, selector with this team also held Kevin in huge regard: "Kevin Coonan was a very good player. He had a beautiful left leg, a beautiful free taker. He was a grand lad and I'd like to meet him again some time. I always said down through the years when you got a footballer out of the North, you always got a good one and he was a hell of a good player."
Kevin had been coached throughout his football career by Kerry man John Kissane and Donegal's Patrick Bonar along with Fr. Brendan Kyne, Denis McSweeney, Eddie Scanlan and John Foley in Nenagh and for those men to see Kevin climb the steps in Portlaoise to accept the trophy was a magical moment.
Paul Darcy
Paul, from the Borrisokane club, was part of the under-21 side that defeated Cork in the Munster championship earlier that year and were extremely unlucky to lose to the Kingdom in the Munster final by three points. He joined the junior panel and was faced with a cruel dilemma approaching this final. The game was originally pencilled in for the following night but had to be moved back by one day due to infamous re-fixture of the Clare Offaly All-Ireland semi-final following the premature ending to their replayed match. Borrisokane had a senior hurling relegation semi-final against Kilruane MacDonaghs fixed for that very same evening and the local GAA authorities insisted the game go ahead. Paul choose to go to the football game thus denying his club of his services and they lost by two points. One would hope if such a situation arose again sense would prevail and no player would be asked to make such a choice.
Anthony Crosse
Pete Savage believes Éire Óg Annacarty man Anthony Crosse was a massive reason as to why that Tipperary team were so successful: "Anthony Crosse probably won the All-Ireland for us. We were playing Warwickshire in the semi-final and Seamus McCarthy took off Anthony and he went down on one knee beside me and commented 'we are playing well, we are in the final and we could win it. I'm feeling fit now and I'm nearly ready for a full match'. I told him to mind himself between this and the final and he'll have every chance of starting. And we did start him and he gave an exhibition in the final. We wouldn't have won it only for him. He was a great footballer. He was full forward in the minor team of '84 that bet Kerry in their own back yard. I remember coming out after that game and hearing a few Kerry minors ask 'how are we going to go home and say Tipperary beat us?'"
They Sung Slievenamon in Urlingford!
Jim McAuliffe recalls one very funny and intriguing incident on the return to Thurles following the great win. Some of the players stopped off at a pub in Urlingford for some badly needed rehydration and very quickly were mingling with the local Kilkenny folk. Great craic was had by all and as they prepared to leave the locals salutied their success by singing Slievenamon. They were very quick to point out that it was the football version of the song!
The Paddy Rohan's Tradition
Being captain it was understandable that Kevin Coonan brought the trophy to his hometown and that well known GAA pub Paddy Rohan's. For anyone who is not familiar with it, this bar is unique with the walls adorned by GAA posters and memorabilia. Many traditions are associated with the place including the rather special birthday celebrations. Those who reach a certain milestone in their lives are always presented with a cheese cake, not your usual cheese cake but rather a block of cheese with candles! Another tradition associated with the place involves the winning captain and the trophy. Chris Bonar takes up the story: "The All-Ireland celebrations in Paddy Rohan's pub in Nenagh were memorable. The cup wasn't in great shape before we got it and I remember it being filled and leaking. To stop it, I remember Paddy Senior tying a tea towel around it. As is tradition, the cup must go behind the counter when it is brought into the pub and the national anthem is then played. The sight of George Coonan holding the cup, tea towel attached will stay with me forever!"
Following the All Ireland success the team were honoured with a civic reception by Clonmel Corporation and also by the South Board. On November 21st the panel were presented with their medals by Uachtarán Chumann Lúthchleas Gael Joe McDonagh in the Cahir House Hotel. Also in attendance were Seán Kelly, chairman of the Munster Council and Dr. Clifford, Patron of the GAA.
The Last Word
We will leave the last word on this team to Pete Savage: "Some of the players we had were exceptionally good. Paul Ormonde and Anthony Crosse are just two examples. It was a great achievement for us at that stage as we weren't going well but to win a junior All-Ireland was a major plus. It was an exceptionally good junior football team. Jim McAuliffe was another great player and he was only on and off of the team. That shows you the quality we had. I meet him at all the matches, a very nice lad. Damien O' Brien and Mark O' Shea were heck of great players. I remember that team fondly and I often think back to the fun we had."
Enda O'Sullivan
Secretary, Tipperary Bloody Sunday Commemoration Committee